During the POSEIDON project all partners have provided dissemination information and materials to raise awareness across user groups about the possibilities of POSEIDON helping to integrate people with Down's syndrome in our society.
Dissemination activities
Information on web and social network sites
Publications of articles, academic papers and blog posts
Presentations at conferences, courses, meetings etc.
Training events for parents, practitioners and teachers
Lectures for students
Read more about activities in our Blog.
Details of all dissemination activities for each partner can be found in the following deliverables:
D7.3 First Dissemination Report Nov13-Oct14
D7.6 Second Dissemination Report Nov14-Oct15 Final v3
D7.7 Third Dissemination Report Nov15-Dec16 Final
Read about our scientific contributions in R3 – Report on scientific progress (Revised December 2016).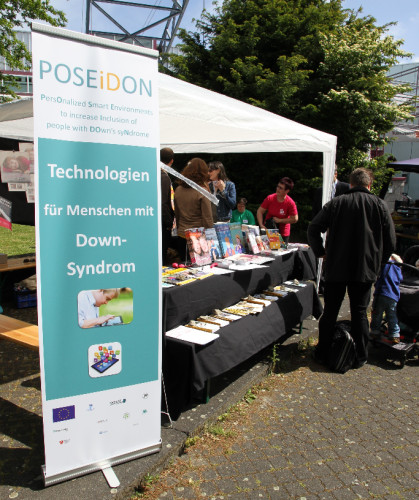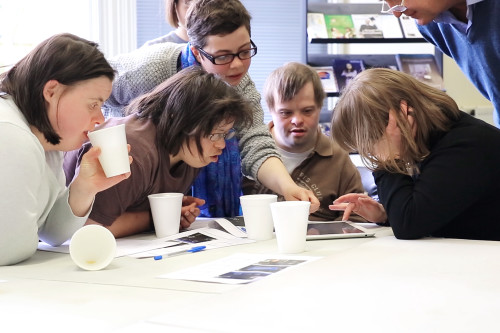 Down Syndrome Associations (DSA´s)
Information about the POSEIDON project has been provided via the networks of the Down syndrome associations in Germany, Norway and UK. They are actively using social media and blogs to provide information to the user groups.
Germany: Association Down-Syndrome
Norway: Norwegian Network for Down Syndrome
UK: Down's Syndrome Association
Through the workshops with other European countries, information has also been provided to other DSA´s in Europe:
Croatia: Croatian Down Syndrome Association
Italy: Associazione Italiana Persone Down (AIPD)
Luxembourg: Trisomie21.Lu
Portugal: APPT21 (Associacao Portuguesa de Portadores de Trissomia 21)
Romania: Down Association Bucharest (ADB)
Switzerland: Insieme 21
Ukraine: Ukrainian Charitable Down Syndrome Organization